MELPOMENE HUA: What makes luxury fashion appealing? 
DANIEL LIM: Luxury brands have done a great job at tapping into the human desire of wanting to project a certain image of themselves, and the need to progress upwards in life. The constant desire to upgrade one's luxury purchases parallels this aspiration. Some people view it as a status symbol, and that's perfectly fine if it makes them happy.
MELPOMENE: Is it a status symbol to you?
DANIEL: [pauses] I love luxury… but I would say it's for the quality more than anything else. I value well-made items that can last for years. But I won't wear something I don't like just because it's branded.  
MELPOMENE: Were any of your luxury purchases emotional or impulsive?
DANIEL: Oh yes, definitely. I would like to think that I'm not impulsive, but sometimes… it happens [laughs]. I'm an avid e-commerce shopper, and I own quite a number of luxury fashion items—it's an occupational hazard. I've learnt that luxury purchases are often emotional because they tend to be made when people achieve a milestone—like receiving their first paycheck or getting a promotion. They are also often sentimental because people tend to buy luxury items as gifts for their loved ones.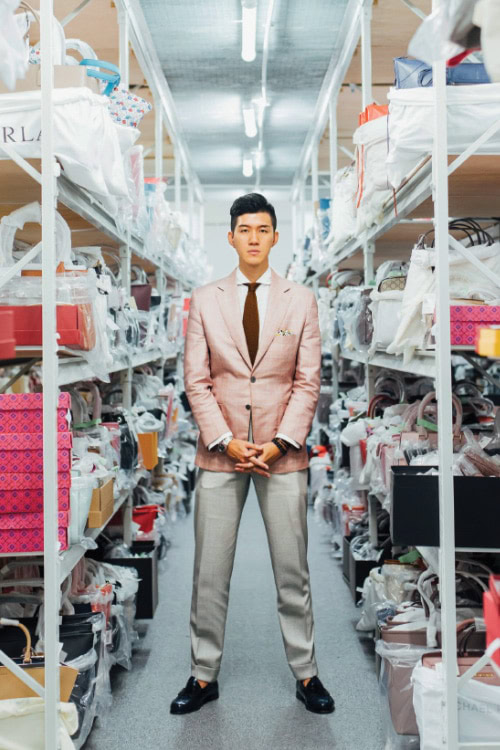 MELPOMENE: What is your favourite luxury brand and why?
DANIEL: I'm really into Saint Laurent now for their clean, simple aesthetic that goes well with almost everything I own.
MELPOMENE: What is a typical day like for you as Head Merchandiser?
DANIEL: Merchandising is an important department in Reebonz, and our job is to source for products that you see on the site. A typical day involves first meeting with the team, understanding the forecasted trends, and determining what will be popular with our customers in the upcoming months. This process is sometimes segmented into different countries because tastes and preferences can be quite different across regions. Following that, we focus on business development—finding new suppliers and partners to work with. In addition, we work very closely with the global marketing team, because how well the products perform on the site depends a lot on our marketing and sales efforts.
I thrive on routine.
MELPOMENE: Have you developed any personal entrepreneurial hacks to make your days more productive?
DANIEL: I thrive on routine. For example, every Monday at 10AM I have a meeting with the merchandising team, at 11AM with the marketing team, and so on. Those are my weekly schedules that I would never miss. As an entrepreneur, there are always going to be fires to fight, but I try as much as possible to develop and stick to routines, in order to ensure consistent execution. It sounds cliché, but I really believe in the saying, "1% inspiration and 99% execution". The bulk of Reebonz's success over the last 7 years can be attributed to our ability to execute very well.
MELPOMENE: What would make you perfectly happy in your current role?
DANIEL: The success of our new business models. E-commerce has evolved in the last 2 to 3 years, and Reebonz is also evolving to become more of an ecosystem. We launched two new business models in the last 18 months–Closets, which allows you to buy and sell pre-owned luxury, and Marketplace, where we curate the world's best boutiques to give our customers new ways to access luxury. I'm very excited about them because it will create a new, holistic experience for our customers.
MELPOMENE: Does data on consumer behavior influence your decision-making?
DANIEL: When someone surfs our site on desktop or mobile, we are able to track their behavior and generate heat maps of their browsing patterns. In that aspect, e-commerce has an edge over brick-and-mortar stores, because the data we collect gives us an insight on what our customers like, and that helps in our decision-making process.
MELPOMENE: What is the most surprising or uncanny trend you've seen from the data?
DANIEL: Beyond a certain point on a webpage, people stop browsing. I thought that people would keep scrolling, but in reality, they get to a cut-off point where they decide to go to the next page instead. It doesn't make sense to put any items beyond that cut-off point. It is a different story on mobile because people are more accustomed to scrolling. And it's interesting how people behave differently on web and mobile. So having this information affects how we design the best shopping experiences for different platforms.
MELPOMENE: What prompted the shift from an individual luxury experience to building an ecosystem?
DANIEL: There is no single tipping point, but one of the turning points was the launch of Reebonz Vintage. In addition to buying vintage, people started enquiring about selling their products, so we created the white glove service to facilitate the selling process. As that grew, we looked for ways to make the process easier and took inspiration from Instagram, where people use their mobile phones to snap and upload pictures. Eventually, we developed Closets.
MELPOMENE: What is your vision for Reebonz?
DANIEL: I believe that luxury consumption is a journey, and people constantly want to upgrade. For example, when ladies get their first paycheck they may get a more entry-level handbag, and later upgrade to a Chanel or Prada bag. We want to be the brand name that people think of when it comes to luxury e-commerce, and beyond that, we also want to be the brand that accompanies our customers on their luxury journeys.
MELPOMENE: Do you see Luxglove and Carousell as your competitors?
DANIEL: Operations wise, we are similar but because our target market is more niche and specific, many of the capabilities we build are specific to luxury fashion. For example, we provide authentication, which is not something a mass-market player needs to provide. We provide these value-added services to defend our space, and become the brand that people trust when it comes to luxury purchases.
MELPOMENE: Can you walk me through the process you take when entering a new market?
DANIEL: Even though the population size of a market may be very big, such as in the case of Vietnam, the percentage of the population that has access to luxury is actually relatively small. The first deciding factor for entering a market is the absolute number of people we can target. Next, we look at the Internet and mobile penetration, as well as how easy it is to ship in and out of that particular country. We always start by running many small tests such as Facebook ads, and we never go into a market with a big TV or a billboard ad. We want to attract a core group of early adopters who will later become strong brand advocates. Southeast Asian markets are relatively complex because there are many factors unique to each market. For example, in Indonesia, 50% of our business comes from bank transfers—that's not something common here in Singapore. We differentiate ourselves in the markets we enter by localising to suit the needs and preferences of each country.
MELPOMENE: What is the most effective way to build trust?
DANIEL: It has always been through word-of-mouth. When we first started, it was challenging because luxury purchases tend to be expensive, and people were not as accustomed to buying luxury online. What helped immensely was to provide a great customer experience—quick responses to enquiries, exquisite packaging, and reliable delivery. By being very focused on our target market and having a clear value proposition, we were fortunate to have a group of early adopters who became our brand promoters.
MELPOMENE: What about e-commerce that excites you?
DANIEL: In my university and junior college days, I was already shopping on eBay and some other websites from the U.S. As a consumer, I loved that I was getting products at a better value or finding unique items that weren't available in Singapore. As an entrepreneur, I enjoy the fast-changing nature of e-commerce. E-commerce will not replace the physical shopping experience entirely, but I've always believed that e-commerce would fundamentally change the way people shop. The first wave of e-commerce was predominantly transactional and people were still very cautious. Subsequently, Amazon introduced a community element by allowing consumers to write reviews on products they've purchased. The second wave would be exemplified by models such as Reebonz's Closet, where customers are able to chat directly with individual sellers, and vice versa. Based on customer behaviour, even when shopping online, people want input. Because humans are social by nature, I think e-commerce will continue to evolve in that direction.
MELPOMENE: Should a start-up solve a problem, or be something that you're passionate about?
DANIEL: For me, it's first and foremost what you're passionate about. I like fashion, and I've always believed in e-commerce, even before it started to gain traction here. Next, you have to identify your niche and specify the differentiated service that you can provide. It is also important to determine whether there's a demand for what you're offering, and consequently, if you can make a living from it. I think it's a convergence of these three factors that determine whether a start-up should exist.
MELPOMENE: Do you think that formal education was important for your accomplishments?
DANIEL: When you start building a business, there are so many unknowns, and the only way you can learn is through mentorship and repeated failures. I studied business management in SMU, and while education is not a determining factor for everyone, it did equip me with some basic skills necessary in building any business.
I believe that the person who succeeds is the one who fails and bounces back fast.
MELPOMENE: Does the way you think and process information affect the organisational culture?
DANIEL: Yes. Typically, I like to move fast because I believe that indecision is worse than bad decisions. I test on a small scale and make quick decisions based on these tests. I think that trickles down to the organisation, and people are encouraged to act and make small mistakes very quickly, and learn as much as they can from those mistakes. I believe that the person who succeeds is the one who fails and bounces back fast.
MELPOMENE: Do you think you have created an environment where your employees can do what they do best every day?
DANIEL: We live by the principles of freedom and responsibility. There is freedom because we have a relaxed and open culture—people call me by my first name, and they are encouraged to test many new ideas. Responsibility comes in when people take ownership of their work and are able to motivate themselves, rather than looking at it like a 9-to-5 job where they merely clock in the hours.
MELPOMENE: What is the most important thing you've learnt about people?
DANIEL: Give them a purpose. Assuming that you've hired someone who is competent and fits in with the organisation, you still need to inspire them with the "why". It's the "why" that will keep someone going when things get tough. For us, the "why" is to change how people consume luxury. If someone shares our vision and wants to be part of the first Singaporean e-commerce brand to go global, he will be driven to go above and beyond his job description.
****
Edited by Wy-Lene Yap