WY-LENE YAP: What are you wearing today?
JOHNNY MANGLANI: I'm wearing an Icon by Johnny Manglani suit—a limited edition line. People have different passions like cars, airplanes, motorbikes, travelling, etc. . . but suits are my passion. I always feel a man looks the best when he is dressed in a suit. When we make suits for our Icon collection, we use the finest fabrics, linings and finishings.
WY-LENE: And your shoes?
JOHNNY: The shoes are from Uomo Collezioni.
WY-LENE: You were born in India, but why did you move to Russia?
JOHNNY: I don't know; it just happened because I was looking for opportunities. I moved to Moscow before I was 18 years old, and it was a right move which paid off. I wanted to go somewhere different where there was not much competition, and I became successful by providing a service people appreciated.
WY-LENE: Was it hard adapting to the culture in Russia initially?
JOHNNY: Not really. I've been in Russia for more than 35 years. If today you put me in Vietnam, I would be able to assimilate into the culture easily and feel right at home. However, there are some places I won't go to like Afghanistan or Nigeria.
WY-LENE: So do you drink Vodka for breakfast?
JOHNNY: It's a myth that Russians drink vodka for breakfast—unless he is a coal miner, and I'm not one. I don't eat caviar too, but I serve it to people.
WY-LENE: Where is home for you?
JOHNNY: Singapore, Moscow, and Singapore Airlines. I travel a lot.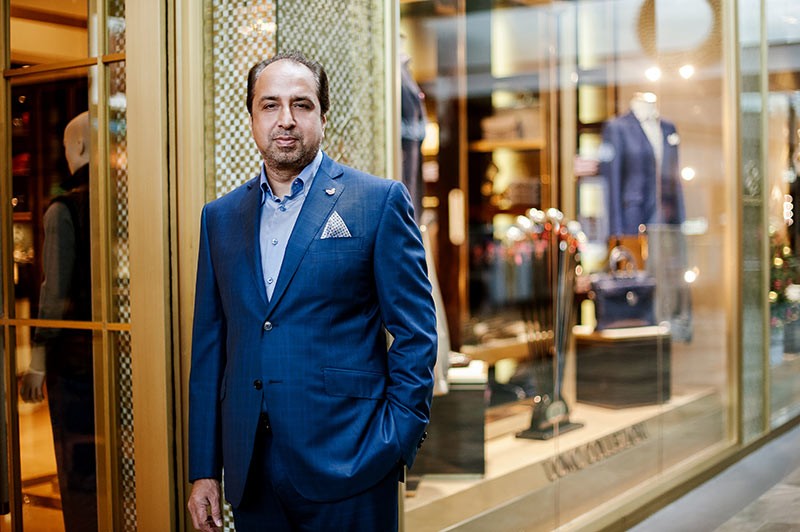 WY-LENE: How did your interest in luxury menswear begin?
JOHNNY: I have always been fascinated by menswear, and I started out tailoring suits. Russia, in the '80s, was every rough… even in the '90s too. In 1998, Russia defaulted but I decided to abandon my old business model of making affordable suits and venture into the luxury business. I thought maybe I had made a mistake but I persevered and found success. So Uomo Collezioni was introduced in 1998 and by 1999, we were doing well enough and that led to the opening of our second store in 2000. Subsequently, every year, we were opening new boutiques. In 2008, the global financial crisis hit Russia very hard, so I came to Singapore a year later and from 2010 till now, we have managed to do very well here. I'm still looking for a new opportunity—the market which will give us a boost for the next 5 years. However, in this world today, it is very difficult to find that kind of market because there is a lot of uncertainty in the global economy.
I had one intention—to raise the luxury bar.
WY-LENE: Why Singapore?
JOHNNY: At that time, 2 new integrated resorts were opening, and I saw the potential draw for high-spending customers, which was why I decided to open Uomo Collezioni in 2010. I did not know if it would be successful or not, but I believed in it and on the very first day, we started pulling in the right clients. I had one intention—to raise the luxury bar.
WY-LENE: What's the concept behind Uomo Collezioni?
JOHNNY: Everything we do is made in Italy, and we use the finest fabrics. There is a lot of emphasis on handwork too. We have fantastic su misura (tailor-made) services, and we serve clients who are looking for quality, not quantity. That aside, we have a private shopping suite with a fantastic bar at their disposal, and everything is brought to them. We provide the finer things in life for men when it comes to dressing up.
WY-LENE: I understand that you have 8 Uomo Collezioni stores: 6 in Moscow, 1 in St. Petersburg and 1 in Singapore. In addition, under the Uomo group, you also operate mono-brand boutiques like Stefano Ricci, Brioni, Zilli and Moreschi. Are you aiming for more?
JOHNNY: I want to focus on Uomo Collezioni, and make our own brand stronger as there is a lot more flexibility to adapt to new market conditions. Today, retail is different as compared to 5 to 10 years ago—due to the rise of online shopping. Although we work with big brands, it is easier for us to concentrate on our own strengths, and we have recently introduced a new concept in Singapore called The Bespoke Club at Suntec City Mall.
WY-LENE: What other markets are you looking to expand into?
JOHNNY: Using Singapore as our base, we are looking at regional countries such as Indonesia, Malaysia, Philippines and even Australia. In terms of European cities, we are thinking of London, Geneva, Zurich, and Milan.
WY-LENE: Any plans to go public?
JOHNNY: We might go public in the future, but at the moment, the IPO markets are not very attractive and I am happy with our current situation.
WY-LENE: Are there differences between "luxury" and "designer" menswear nowadays?
JOHNNY: Designer menswear has become mass luxury. Big brands have outlets that offer discounts to customers, which appeal to people who are into labels. But we are focusing on a kind of luxury that is handmade and more exclusive in nature.
WY-LENE: There has been a lot of talk that the growth in menswear has now outpaced that of women's. Men are paying attention to the art of dressing. What are the contributing factors towards this shift?
JOHNNY: I believe that in Asia, the first generation of men was busy building businesses. The second generation and third generation are definitely living it up. Indians and Chinese used to scrimp and save, but their spending habits have changed due to a cultural shift propagated by the media and entertainment industry. 10 years ago, I used to tell my friends in India that I am going to the Maldives for a vacation, which would cost $50,000. And they said, "Are you kidding?" Today, my friends have more vacations than me.
WY-LENE: How are men shopping these days?
JOHNNY: Men want to splurge on the latest fashion, and they are dressing up for different occasions. Some even treat themselves to good fragrances and grooming products. I think some men are even more vain than their wives.
WY-LENE: Are you one of them?
JOHNNY: Yes, I'm very vain. That being said, my wife is an impeccable dresser.
WY-LENE: Do you think it's easy to tell a man's class or economic status by what he's wearing?
JOHNNY: It's very difficult to tell, especially in Asia. Generally, Asian men tend to dress very casually, and one reason could be the weather. A guy could be wearing flip-flops, yet he owns a Lamborghini in his garage. In a country like Russia, it is very easy to tell if a man is wealthy, because he would have a driver and a bodyguard.
WY-LENE: What essential pieces of clothing should a man have in his wardrobe?
JOHNNY: At least 3 to 4 beautiful suits. . . a blazer, a sports jacket, a tuxedo, a few good pairs of jeans and a pocket square.
WY-LENE: What is the worst fashion faux pas men make?
JOHNNY: First, wearing short socks that reveal their leg hair when they cross their legs. Second, never button the bottom button of your suit jacket.
WY-LENE: And if a suit jacket has 3 buttons, you are supposed to button the middle one.
JOHNNY: You seem to be very knowledgeable about fashion.
WY-LENE: Have you watched Suits before?
JOHNNY: Yes. I'm an action freak, so I prefer watching TV shows like Homeland.
WY-LENE: How about Breaking Bad?
JOHNNY: Yes, but I'm very anti-drugs. I detest people who even entertain the idea of taking a pill or crystal meth. You are a real loser in life if you become dependent on drugs.
WY-LENE: I understand that your wife and daughter are involved in the business. However, working with family members has the potential to be a very sticky and challenging situation. What's your approach to this?
JOHNNY: My wife is the pillar of my success. She is more of an adviser and is also a shareholder in the company. Right now, I'm going through challenging times because of Russia and the changing habits of Asian shoppers. Whenever I go home with my head down (which hardly happens), my wife instinctively knows my mood, so she will cook for me a fantastic breakfast the next morning and tell me a couple of nice things. She will straighten me out. My daughter is now doing her masters in London College of Fashion. During the two-year period when she was working for me, she did a fairly good job despite the fact that I was very critical of her. Eventually, I think she will rejoin the business.
WY-LENE: Are your daughters part of the succession plan?
JOHNNY: They will have to earn it because I have people who have been with my company for 20 to 25 years.
Hard work can make you lucky.
WY-LENE: What is your theory of human motivation, and how does your hiring process fit with that view?
JOHNNY: Anyone who works for me has to possess a strong sense of ownership, and believe that they can contribute to the success of the company. We hardly hire managers who are in the fashion industry. Recently, I hired MBA graduates who know nothing about fashion, but they are smart, capable and willing to learn, and I can mold them into fashion experts. Once someone is part of my inner circle, it's very difficult to leave because I make him or her feel like it's their own business too, and not just mine per se. At the end of the day, hard work is the key to success but I'm not going to discount the fact that luck is also very important. Hard work can make you lucky.
WY-LENE: What's the single most important thing one can do to be an effective leader?
JOHNNY: Be flexible. There is nothing written in stone, and you need to be able to adapt to different circumstances.
WY-LENE: What is the one behavior or trait that you have seen derail leaders' careers?
JOHNNY: Bad decisions can derail the business very easily, so good decision-making is very important. Also, being overconfident about your success can hit you hard. You need be fairly level-headed. I do make it a point to write down my mistakes so I will not repeat them again.
WY-LENE: What drives you in life?
JOHNNY: I want my family and my colleagues to be proud of me and recognise how hard I work for them. I want to leave a legacy behind. . . I don't want to be remembered for being a good guy. . . or a bad guy.
WY-LENE: I am aware that you were given the Knighthood of the Order of Merit of the Italian Republic for promoting Italian fashion in Russia. How do you want people to remember you?
JOHNNY: I want to be remembered for my contribution to men's fashion.
WY-LENE: What is something you believe that nearly no one agrees with you on?
JOHNNY: [long pause] That I'm an easy person.
WY-LENE: I know you're a steak lover. How do you like your meat done?
JOHNNY: Oh, yes. Medium.
WY-LENE: Do you have a particular restaurant that you go to for the best steak?
JOHNNY: I have the privilege of being surrounded by good restaurants in Singapore and Moscow. I like CUT by Wolfgang Puck. I am a creature of habit, so whenever I go to my usual restaurants, the managers immediately know my order. For example, I only drink cranberry soda at DB Bistro Moderne.
WY-LENE: Since you're a big sports fan, what is your favourite football team?
JOHNNY: Barcelona.
WY-LENE: Last question: Any regrets in life?
JOHNNY: I'm not a billionaire. [laughs] Just kidding. I wish I was wiser 25 years ago, but ultimately, I think I have lived life to the fullest.