How Architect and Interior Designer Robert Cheng Humanises Space
Founder & Design Director, Brewin Design Office
Text by Nikki Wong; Photography by Yew Jia Jun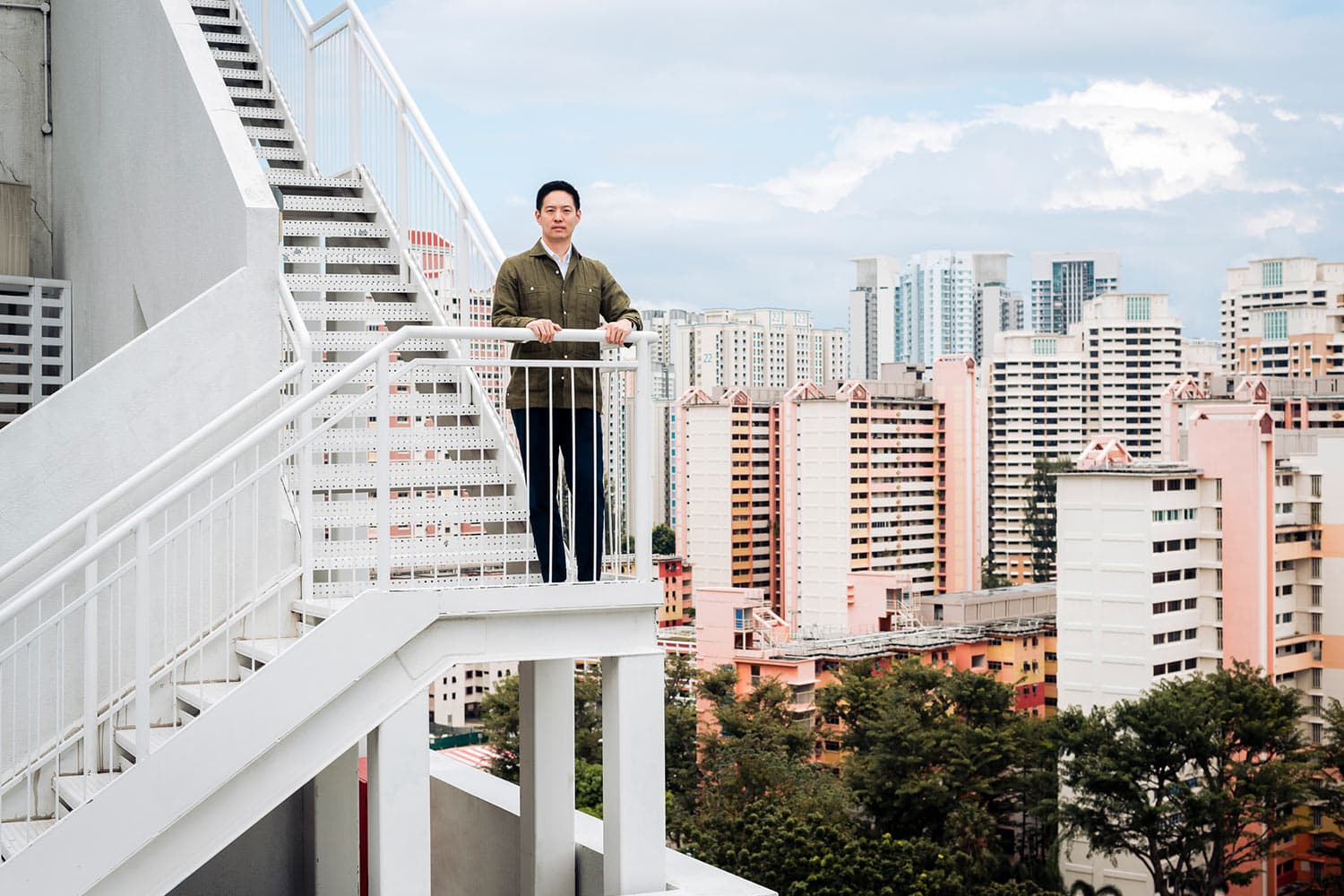 May 29, 2020
Become – Trendsetters
On a muggy, overcast afternoon in late March, Robert Cheng greets me cordially in his studio, which looks more like a modern art gallery. We hesitate whether we should forgo the handshake and tap shoes instead, but formalities take over. Light fixtures suspended from the ceiling draw attention to the vibrant abstract pieces on the walls, while sketches of a body in movement lay haphazardly across the centre table. As I walk up one of a pair of white-painted staircases, I'm struck by the uniqueness of every object I encounter: a lacquered chaise, a granite table, doors that disappear into the wall leaving nothing but a white continuity. Samples of custom-made rugs, laminates, and timbers line the shelves of a colour-coordinated library of materials, redolent of a real-life Pantone catalogue. The mélange of mock-ups and testers is strictly audited, teetering between inspiration and relevance. It has been eight years since Robert founded Brewin Design Office, with an approach anchored in creating timeless interior and architectural designs for commercial, residential and hospitality projects. His illustrious portfolio includes Solís Ubud Hotel in Bali, Keraton Residence, the penthouse of The Morgan Hong Kong and Chef's Table at Capella Singapore. A recurring theme in Robert's works is his ability to enrich a space by improving its functionality and mixing unusual textures and combinations. From handmade artisanal furniture to meticulously curated layouts, Robert crafts every aspect of an interior—going as far as to consider how the weather might affect the guest experience. Much like Robert's artful deliberation in his thought process, his demeanour is composed, almost reserved, as he takes a seat in a sepia-toned leather chair at the end of the table (which up to two months ago, used to be his private office). Cross-legged and leaning back ever so slightly, the urbane 43-year-old listens intently and tempers his reticence with eloquence.
NIKKI WONG: Why did you move out of your private office? 
ROBERT CHENG: I used to sit here and stare at this painting by Charwei Tsai, and I felt very removed from my team. This piece of art is meant to capture a strong sense of spirituality and freedom, so I recently moved to sit next to someone whom I am grooming to be a specialist of materials.
NIKKI: Can you describe your company culture?
ROBERT: I'm very married to the studio life, married to drawing everything myself and really making sure that I'm aware of every dimension. I know that I will have to give that up eventually. I was trained in the West and developed the mindset where you do it all (and are aware of every single function of the process). However, that isn't always easy when you're trying to grow a company.
NIKKI: Is there a tension between this studio method and being able to expand past your current productivity?
ROBERT: My job is to ensure that our DNA is in every project we do, even as we continue to grow. The bigger challenge is to come up with a unique design for each project without repeating ourselves. I am never attached to my own original idea when I can clearly see that the ninth one we've come up with collectively is better. When I see something great, it's not about my input or my ego. It's about recognising the best design solution.
"I always try to ensure that there is enough soul in my work to impact someone beyond just the space itself."
NIKKI: What kind of projects do you prefer working on?
ROBERT: I like projects that have larger spaces, like building lobbies where there is more to work with. There is a lot to be explored between corporate soulless entrances and overly decorative and opulent hotel foyers. There is a middle ground where you can inspire people to come down and not be hit by a cold minimalism characterised only by hard grey granite. People can experience warmth in a large environment without feeling like they are in a faux set design or a contrived co-working space.
NIKKI: Do you have a design language that can be seen throughout all your work?
ROBERT: We do a wide range of different projects, from private residences to art galleries. And I used to think that I should just let the work speak for itself. The common thread in our work is how we are able to harmonise the minute details, with the overall space. Ultimately, we want to create environments that are pared-back yet have a particular flair. I always try to ensure that there is enough soul in my work to impact someone beyond just the space itself. When people walk through a space I have curated, I want them to have an emotional reaction and a sense of nostalgia.
NIKKI: Do you think that interior design and architecture have a parallel or contrasting relationship with each other?
ROBERT: They are definitely an extension of one another. From the way you kickstart a project on a piece of napkin to its actual completion, interior architecture is the inner lining of the envelope that you call architecture. As you begin to work with volumes, you are forced to think about what the experience would be like venturing through them. You have to ask how they are connected, where the optimum placement for the most scenic view is, or where the best outlet for richer sunlight might be. Similarly, inside, it's about understanding how you would connect a window to a wall, or a staircase to a mezzanine.
NIKKI: You pride yourself on having a meaning-making process in your work. When you design, do you think in metaphors?
ROBERT: Not all the time. I think more about the narrative the design will have. For instance, the concept of this small restaurant in Lan Kwai Fong that I worked on, is to create the interior lining of the very urbanised concrete jungle that makes up Hong Kong. What would a slice of the city look like? It would be a derivative of all the different fabrics you see in the city; the old, the new, a collaging of man-made and cementitious materials. There is symbolism in how the theme of the city is represented by this grey terrazzo space with rough finishes, contrasted with beautiful metals that we've crafted. On the other hand, if I'm working on a residence, I try to understand the family members' habits, which will inform how I design the common spaces and different seating arrangements.  
NIKKI: Is this analytical part of you always 'on'? Let's say you are out with your friends at a restaurant. Do you subconsciously pick apart the interior design style?
ROBERT: Always. I'm always looking at things and trying to justify their design. Why is something done this way and not that? I'm either thinking about the space I'm in or how it relates to my current projects.

Born in Pittsburgh, Robert spent eight years as a child in Singapore before going to boarding school in Surrey. Certain that he wanted to study architecture at the tender age of 15, he enrolled in the Rhode Island School of Design. Upon graduation, Robert relocated from one metropolis to the next, honing his skills and apprenticing under the likes of Calvin Tsao in New York City and Jean Nouvel in Paris. Living in these countries has sharpened Robert's sensitivity to the cultural nuances of various design languages; a Japanese's sense of elegance might translate into matte and rough finishes, while a French counterpart would focus on art déco characteristics and smooth, slender lines.
--------
NIKKI: Has moving from city to city over the years affected your sense of belonging?
ROBERT: In relation to work, it has. I was trained in cities that have a completely different working culture and methodology. The way you approach design in New York versus Paris is not the same at all. The clientele is different and their interest levels vary. Once I came back to Singapore, I had to relearn how to operate as a professional in the industry. For a while, it was like fumbling around in the dark.
NIKKI: What about personally?
ROBERT: Of course. I made a lot of my close friends in college. They've never been to Asia and probably never will. But I see myself as somebody who likes to embrace a handful of cities.
NIKKI: Your last stop before Singapore was Paris. What was your experience there like?
ROBERT: I lived there for three years. Initially, I was very excited about the firm I was with, but after a while, I felt suffocated when I left my apartment every day. I would walk down a very narrow staircase in this very old building in Marais. Immersing yourself in 12th- and 13th-century architecture can get too much after a while.
NIKKI: Having lived in so many different places, where is home?
ROBERT: Growing up, Singapore was never really home. But towards the tail end of my twenty years away, I did start to miss it. I consider Singapore home now because my parents are here and my family has made a point of instilling a strong sense of filial piety.
NIKKI: Are you close to your parents?
ROBERT: I have a very emotional relationship with my mother. With my father, it really depends on the day, the year, and the weather. He's 70 now, and I only came home when he was 60. I was gone for two decades and would only see him for two weeks in a year. Sometimes I would spend a month or two with my parents during the summers. But spending school holidays together isn't the same as eating breakfast with them every morning.
NIKKI: Isn't your dad an architect?
ROBERT: Yes, he was an architect.
NIKKI: Do you feel a lot of pressure being the eldest son?
ROBERT: Yes, of course. When you are part of a prominent family, there is a certain rhetoric in how I was being raised. My father and I have only really developed a relationship in the last decade and that has its different eras and stages. Sometimes we're closer, and sometimes we're not. But more than anything, I hope that we'll become close enough for me to learn more from him. He's an intriguing designer.
"I don't remember the last time I worked five out of seven days; it's always a 6-day week for me."
NIKKI: Would you consider yourself a perfectionist?
ROBERT: I would like to be.
NIKKI: That's a very perfectionist answer.
ROBERT: I don't remember the last time I worked five out of seven days; it's always a 6-day week for me. I think I'm part of an industry that requires us to think that way.
NIKKI: How do you know when a project is done?
ROBERT: I think about it like a piece of art. There are artists who paint until a certain point, and they are done. Then they feel compelled to continue and overpaint. There are definitely instances like that when I design. Ultimately, for me, there are two ways of knowing: first is when I've done all the research and calculations. Second, it's that feeling of walking into a room and knowing that the proportions are just right, and the light falls beautifully. It's sensory as well.
NIKKI: Is there such a thing as good taste, or is it a myth?
ROBERT: It's relative. Look at fashion. If I were to see a straight man with a very flamboyant aesthetic wearing a Rick Owens skirt, I wouldn't think that it was tasteful because I wouldn't wear it. But I would think that he has great taste if he pulls off that gothic persona. If you want to talk about taste on a more conceptual level though, having a trained eye will mean that you can lean on fundamentals like composition and colour combination. Those two aspects come together in design. You can actually see from a specific setting if using one architectural method over the other, is more effective in resolving an issue. 
NIKKI: Do you think taste can be acquired?
ROBERT: Yes, I believe you can. It is a rigorous process that is humbling. There are no shortcuts. I am a much stronger designer today than I was five years ago. Obviously, there will always be people who are more talented or creative, but I think it is something that can be honed. It takes time though, architects usually come to their prime between 60 and 70. They have to work for decades before finding a signature style that truly represents who they are. There were a whole host of post-modern 1980s architects who only began to flourish after 65.
NIKKI: Is that your personal aspiration to come into your own?
ROBERT: For me, it's not about being so famous that my fees skyrocket, but rather to have people look at my work as influential.
Selected Works From Brewin Design Office
****
Edited by Wy-Lene Yap