Pastry Chef Maxine Ngooi Has Finally Found Her Sweet Spot
Executive Chef & Co-Owner, Tigerlily Patisserie and Chin Mee Chin Confectionery
Text by Dawn Wong; Photographs by Juliana Tan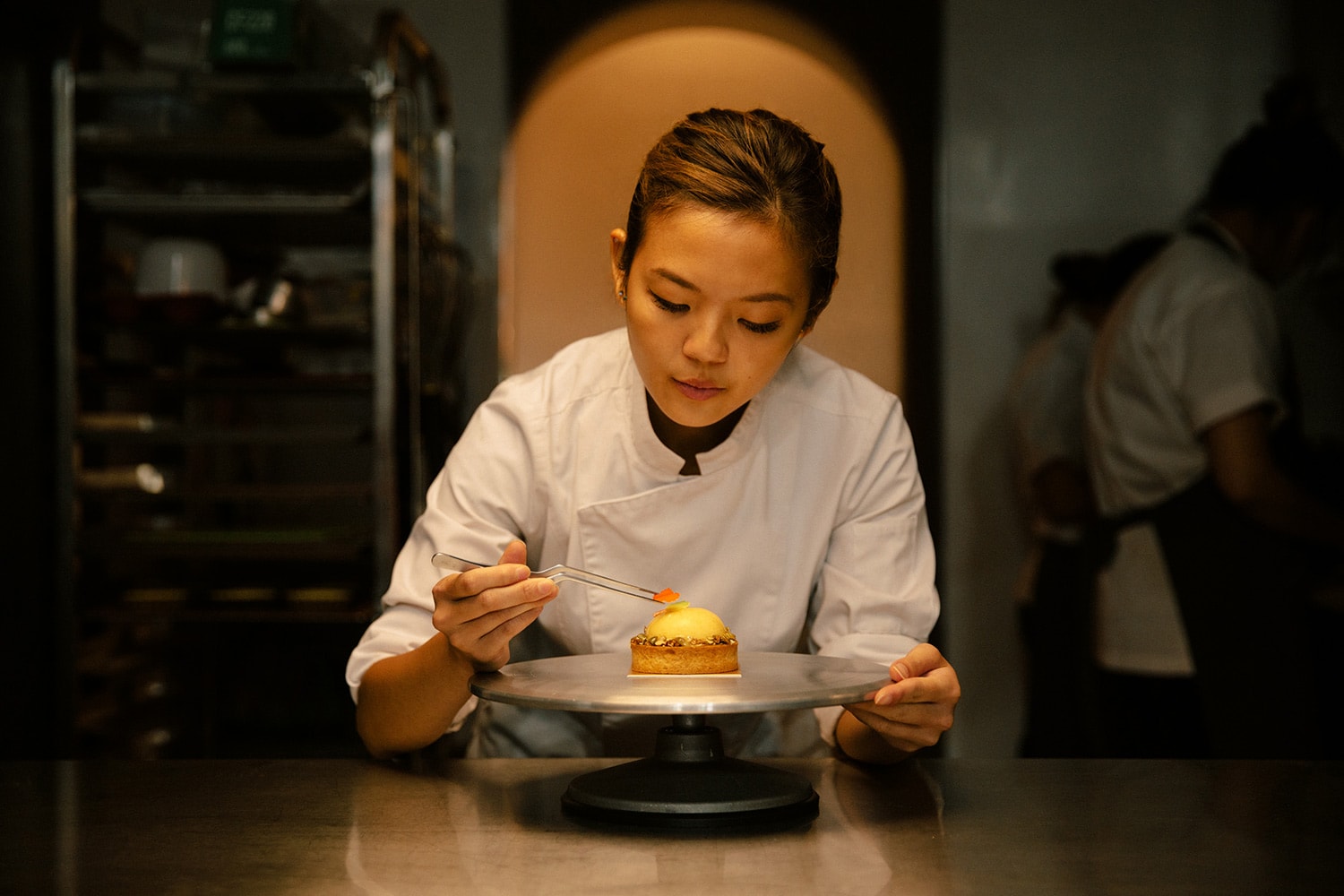 January 14, 2022
Become – Trendsetters
In April 2020, right before the circuit breaker, 28-year-old pastry chef Maxine Ngooi was fantasising about a different future for herself after leaving Michelin-starred restaurant Vianney Massot. In a bid to expand her horizons, Maxine briefly flirted with the idea of going to work at CODA, a two-Michelin-star dessert bar helmed by René Frank in Neukölln, Berlin, or at the famed Gelato Messina in Australia. However, when the world went into lockdown, Maxine's plans came to a grinding halt. Refusing to be at sixes and sevens with the surrounding tumult, she found familiarity and comfort in baking, which was a natural balm for her. Two months later, an opportunity came knocking on her door. The owners of Vianney Massot contacted Maxine and gave her permission to use their kitchen on HongKong Street—prompting the birth of her online bakery. What was initially meant to be a short-term undertaking turned into a launchpad for Maxine's very own brick-and-mortar cafe. A year later, she opened Tigerlily Patisserie along Joo Chiat Road reimagining galettes, cruffins, tarts with various botanicals like ginger flower and kaffir lime to upend people's expectations of what these baked goods should taste like. "My sister and I actually googled cool flower names for the patisserie and I liked how tiger lily sounds," she says. "You need to be fierce and assertive in the kitchen, but my pastries have a feminine touch."
DAWN WONG: You've worked in the kitchens of Tarte by Cheryl Koh, Joël Robuchon and Vianney Massot before. Do you have any memorable lessons from each place that has shaped you as a chef?
MAXINE NGOOI: I learnt about fruits and seasonality at Tarte by Cheryl Koh. It is important to use good fruit in season as the quality drastically changes once it is not. At Robuchon, work was very regimental like being in the army, which taught me discipline. We had to work in a neat and orderly manner and independently as well. Our team was a small one, but we were strong. Everyone had their own individual roles and I was in charge of all the plated desserts. At Vianney Massot, I had a chance to exercise my creativity. Vianney helped me to refine my craft by teaching me how to understand balance and what constitutes a good dessert. Sometimes, I found him rather quirky. When it came to describing food he struggled to find the right words to convey what he wanted, though conversationally he spoke well. That experience helped me to become more intuitive since I had to try to understand what he was saying with his hand gestures! [laughs] 
DAWN: What motivated you to open a bakery-cum-cafe?
MAXINE: We had a great response to our bake boxes and they were constantly sold out. I've always loved Joo Chiat; I grew up and studied in the East, so I knew I wanted a space there. My first part-time job immediately after graduating from St. Anthony's Convent was in the Katong area too. I worked at a cafe called Obolo. They sold cheesecakes. Back then, I was just a service staff and there were only two chefs in the kitchen. Although I already had an interest in the kitchen, I didn't dare to ask. Opening my own bakery feels like I have come full circle.
DAWN: You're also the co-owner of Chin Mee Chin (CMC) and have been working with Sharon Tan, daughter of the confectionery's late founder, and her mother Leong Kwang Ling, to recreate some of CMC's traditional bakes as well as update its offerings. With a 97-year-old heritage, how important was the nostalgia factor when designing the new menu for the reopening?
MAXINE: CMC's closing was very impactful for the locals around the area. I used to frequent the confectionery after mass as a child and have so many memories with the brand. We wanted to keep the essence of CMC, but at the same time keep up with the times. So Sharon told me to update the menu to make it more relevant for a contemporary audience. We conducted a lot of taste tests with the existing items, removed not-so-popular ones like the swiss rolls and experimented with new items as well. For example, I even trialled my grandfather's sugee cake—a recipe I learnt from my mum but the feedback was too dense. If you must know, we still use tall vessels and double boilers to stir the kaya, and grill our bread over the charcoal. Many have asked me what is the secret to our nostalgic bakes. The answer is none other than margarine!
DAWN: What were your favourite childhood foods?
MAXINE: Sugee cake, for sure! And my grandfather's rainbow cake and fruit cake.
DAWN: Earliest food memory?
MAXINE: My mom's cooking. She baked and cooked a lot. She used to make this bread that I lovingly called the "smelly bread," which had olives, thyme, rosemary and olive oil. As a kid, I didn't appreciate it because the taste was bitter and I wasn't a fan of olives. Each time she baked it, the strong smell of herbs would permeate the kitchen. When I grew older, I started appreciating the "smelly bread." In secondary school, I was more open to trying different types of food.
Maxine's first foray into the culinary world began when she was pursuing a business degree in Sydney. She started cooking herself, treating it as an art form. Her greatest culinary triumph? Spaghetti tossed in a creamy pink sauce made from tomatoes, bacon, sausage, topped off with a dollop of mascarpone cheese. Rich, but not decadent. Soothing, but not soporific—a delightful balance of acid and umami. To this day, while many of her friends still miss her pasta, Tigerlily Patisserie customers sing a different tune and clamour for her chocolate hazelnut tart (Rachel Lim of Love, Bonito who is most particular of chocolate desserts is a devotee) or the Beehive. A light lemon sponge with litchi honey jelly encased in a honey parfait shell featuring swirls of yuzu mousse. Visually, the cake is an objet d'art and while Maxine's chief aim is to delight, she has also mastered taste, texture and consistency.
------
DAWN: Was being a chef always at the back of your mind? Or did it only happen when you were studying in Sydney?
MAXINE: It was always at the back of my mind after graduating from secondary school. I did toy with the idea of opening a pastry shop, but I didn't know if it was a viable or safe option. My dad told me to go to university first, as he wanted me to complete my education. Living alone overseas meant that I had to cook my own meals. I visited the farmers market in Sydney and was exposed to produce I had never seen before such as rainbow chard. I even bought Donna Hay's magazines to learn how to use different ingredients to cook and played around with recipes at home.
DAWN: Do you think your background has given you more agency to create since you're not bound by rules or a certain set way?
MAXINE: It has helped me think out of the box more. Self-taught pastry chefs are not constrained by a certain way they were taught; they are more experimental.
DAWN: What is interesting is that your mother is a chef. I'm sure growing up and watching her cook has given you some building blocks.
MAXINE: I would go into the kitchen and help my mum stir the food [laughs]. But I did have the good fortune to learn about Peranakan cooking and local ingredients from her.
DAWN: I like that your menu features ​​seasonal ingredients and playful pairings. What is your creative process like?
MAXINE: A large part of it is intuitive. While there are classic flavour pairings I rely on, I can still swap them around. Chocolate and orange go well together but you can use a similar tasting fruit like yuzu instead of orange. That's how my thought process works. My fig galette has ginger flowers in it. When I was thinking about the ingredients to pair with figs, since figs and ginger go so well together, I reckoned ginger flower might too. They have similar flavour profiles, but are very different in their own way. While much of this is experimental, you still need to have a basic foundational knowledge of classic flavour pairings. So if I work with an acidic ingredient, I will find something that is sweet and floral to pair with it. As a rule of the thumb, I aim for a good balance.
DAWN: Do you have a speciality?
MAXINE: The Beehive that I created when I was at Vianney Massot. When we started doing takeaways due to the lockdown, I designed a cake version, which was compact and travel-friendly.
"I'm big on using unconventional ingredients."
DAWN: Why then was Tigerlily Patisserie's anniversary cake the Lychee Lily?
MAXINE: It is the cake version of a tiger lily and also represents my approach to flavour pairings. I love using floral and fruity flavours together. Lychee is one of my favourites, and so is strawberry. I adore using herbs in pastry, like coriander. It is an ingredient you won't find in pastries very often as they are mostly used in savoury dishes. Even when I worked at Vianney Massot, I was already experimenting with vegetables (from cucumbers to Jerusalem artichokes) in my desserts. On the whole, I'm big on using unconventional ingredients.
DAWN: Speaking of going against the grain, what are some unconventional culinary techniques you stand by?
MAXINE: I use my intuition.
DAWN: At which point do you think pastry turns into art?
MAXINE: Art does not need to be elaborate. It could be as simple as turning one ingredient into something completely different. Every piece of pastry is an art to me! Even making a simple chocolate cake is an art form.
DAWN: How long does it take to perfect a recipe?
MAXINE: It depends. I can have a very clear idea of what I want sometimes—and I know it's going to be an immediate success. However, if it turns out completely different from my expectations, I will keep working on it. I test out flavour combinations that I'm unsure about. When I get it right, the feeling is as though I've struck the lottery.
The traditional culinary world is one that is fraught with gender bias; women keen on becoming chefs have frequently struggled to gain recognition and respect within a highly patriarchal system. Those who do venture into the kitchen are often victims of abuse and many end up throwing in the towel. Furthermore, there have been multitudinous outdated and baseless reasons why men reckon that the second sex do not have a place in the kitchen. Yoshikazu Ono, the son of esteemed sushi chef Jiro Ono, once cited the menstrual cycle as a key reason why he does not employ women since it causes them to "have an imbalance in their taste." Initially, Maxine feared that being a woman could be a professional liability. "When I first joined the industry I was scrawny, weak and never into sports. I thought life would be easier if I were stronger," she says. In order to train her body to endure the physical demands of the kitchen, Maxine would do burpees after working 16-hour shifts. She started with ten before progressing to 30-minute workouts.
What Maxine lacks in the strength department, she makes up in spades with ingenuity, industriousness and a tough-as-nails attitude. Her confidence has soared too since becoming a girl boss and is unafraid to be herself—whether that may be donning a pair of bright pink socks with kitten motifs or applying candy lip gloss. But what matters most is letting her well-wrought confections do the talking; offering a slice of heaven to sweet tooths and café aficionados alike.
------
DAWN: As a young female chef in a male-dominated profession, did you feel the need to lessen or change your identity to fit in?
MAXINE: When I first joined the industry I thought that I needed to be serious and fierce, if not people would take advantage of me. However, after I started working at Robuchon, my mindset changed. The team was entirely female and I started to behave more like myself. We did not need help from guys and it showed me that girls could be equally good as chefs. I used to hate the colour pink as it was too feminine; it felt delicate and precious as well. But over the years, I learnt to be proud of being female and liking pink, which was why I incorporated it into the main colour theme of Tigerlily Patisserie.
DAWN: To what extent would you agree with the notion that the culinary world is a rather misogynistic one?
MAXINE: It was worse ten years ago, but there has been a huge improvement now and people celebrate female chefs. We are starting to be seen as equals nowadays. Many female chefs are making a name for themselves in the industry. Look at the chef from Lolla—Johanne Siy is female and runs the show. Being a chef is not about brute strength; it's about having soft skills like emotional intelligence and knowing how to manage people.
DAWN: It's a known fact that male chefs have more physical strength in the kitchen, what do you think is a woman's greatest strength then?
MAXINE: Female chefs are more organised and more in tune with emotions.
DAWN: Do you think your age works for or against you?
MAXINE: It works for me! I have tons of energy and can be constantly on my feet. I would be struggling if I was older! I don't think it affects me negatively at all.
"I'm more assertive now. In the beginning, I used to feel like a little ant in a big colony as I knew nothing."
DAWN: Has there been a change in your working style from when you first started till now?
MAXINE: I'm more assertive now. In the beginning, I used to feel like a little ant in a big colony as I knew nothing. I would never dare to question my seniors. That mindset stuck with me all the way until I started working at Vianney Massot. Being a leader of a team now, I'm forced to make decisions and stick with them.
DAWN: As a self-proclaimed "tree hugger," will sustainability be part of your cooking practice soon?
MAXINE: For sure! We are trying to support more local businesses. For my Beehive dessert, I want to visit the local bee farms to source home-produced honey. Our food and vegetables are mostly sourced locally. In addition, we are working on having more environmentally friendly packaging. As a rule, we ensure there's almost close to zero wastage. In many bakeries and restaurants, there is a huge amount of wastage. I am a believer in using the entire larder. Whatever I don't use, I put it into kombucha.
DAWN: Favourite ingredients to work with and why?
MAXINE: I love chocolate! It's a real science to work with chocolate but I understand the ingredient very well. It can be daunting to some but not for me. Also, butter is the building block of everything.
DAWN: Are there any new concepts in the pipeline?
MAXINE: My main goal for now is to stabilise Tigerlily Patisserie and CMC. I want to focus on them and do a good job. We might come up with new items, but we won't be opening a new outlet.
****
Edited by Wy-Lene Yap